If you are coming on holiday to Formentera and you are concerned about the ecological footprint, then the perfect option for you to explore the island is an electric car. You will be able to discover and enjoy every corner with zero emissions and without noise pollution.
It is highly recommended to tour Formentera with an electric car. Besides caring for the island and the planet (no small thing), Formentera is a relatively small island; with an extension of approximately 84 km2 and around 20 km between the two furthest points, an electric car gives you the right amount of autonomy.
What electric car do we recommend?
At Formotor our favourite electric cars are Renault Zoe, Kia Soul and our novelty this year: Smart Fortwo.
Comfortable and practical, each one has different characteristics for you to enjoy the perfect holiday either alone, as a couple, with family or with friends.
Driving an electric car is more relaxed, and smoother as you don't have to change gears.
If you are travelling with children, we have a wide variety of extras at your disposal such as seats for babies and children or elevators. If you need any extra, don't forget to mention it when you book your car.
The pick up and return of the electric car you rent is flexible, with different schedules and places to choose from, you just need to tell us beforehand.
Where can you charge an electric car in Formentera?
Formenera has several public charging points on some streets where you can charge any electric vehicle; there are different types of charging stations; fast, semi-fast and slow, and you can find them on this map: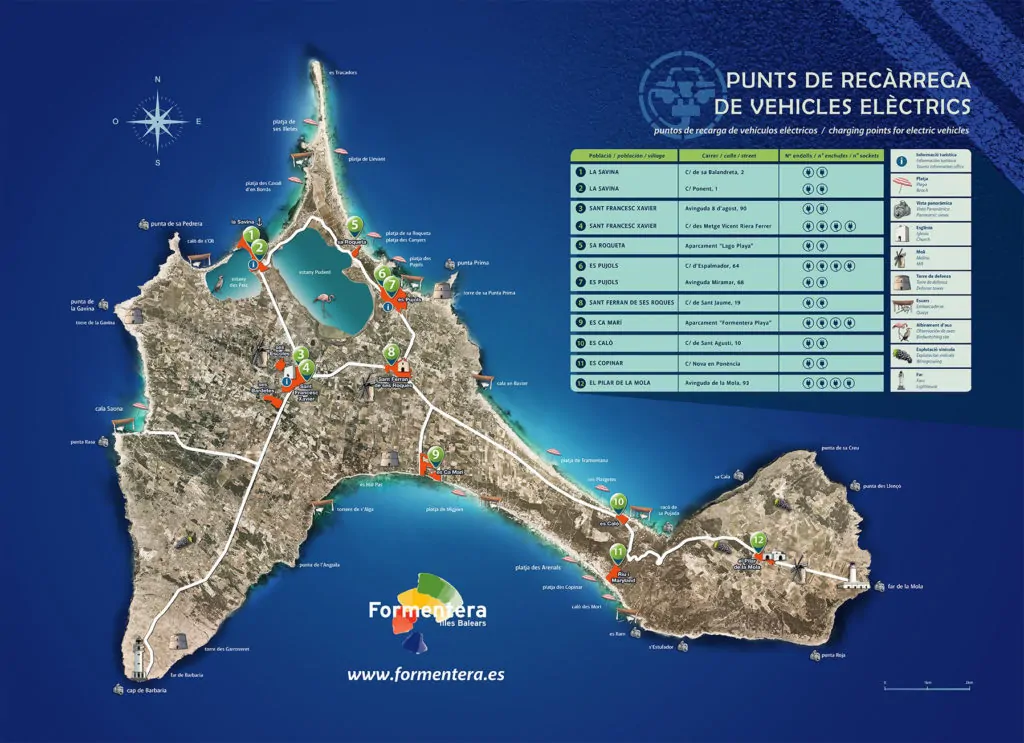 Some restaurants and accommodations also have exclusive recharging points for customers. We recommend you check when you book  to find the nearest one.
A plus for renting an electric car in Formentera
Since they are more environmentally friendly and respectful of the island, some car parks and tourist spots that are usually full in high season have free access and exclusive spaces reserved for this type of vehicle.
We are waiting for you in Formentera!
Book your electric car with us and travel around the island in the best possible way, saving fuel and above all, minimising the environmental impact without emitting polluting gases.
If you have any questions or queries you can contact us by phone: 0034 971 32 29 29 or email: rent@formotor.com