Why you should rent an electric car to discover Formentera
Formentera is a small island, approximately 84 km2, to give you an idea of its dimensions, there are just about 20km between its two farthest points.
The most practical way to discover the island is to rent a vehicle, even better if that vehicle is electric, both the planet and the island's environment will thank you. And being a small island, you will have plenty of autonomy.
Advantages of renting an electric car for your holiday in Formentera:
Driving an electric car is very comfortable and relaxed, you can enjoy the smooth driving while not having to constantly change gears.
You will save on fuel since it does not consume any and in paid parking lots like at Ses Illetes beach in the Ses Salines d'Eivissa i Formentera Natural Park since electric cars have free access.
It will be easier for you to park, at high season it is difficult to find free parking space at most of the beaches, but they usually reserve some places for electric cars since "clean" drivers are rewarded for being more respectful of the island.
You will enjoy the sound of nature, you will disconnect from the noise especially if you come from a big city, because they are so silent.
You will help minimize the environmental impact during your stay on the island since they do not emit polluting gases, they are marked "Zero emissions".
Charging points for electric vehicles in Formentera:
In Formentera we have several public charging points, they are located on the street accessible to any electric vehicle. Here you can see here the last published map of public charging points in different points of the island: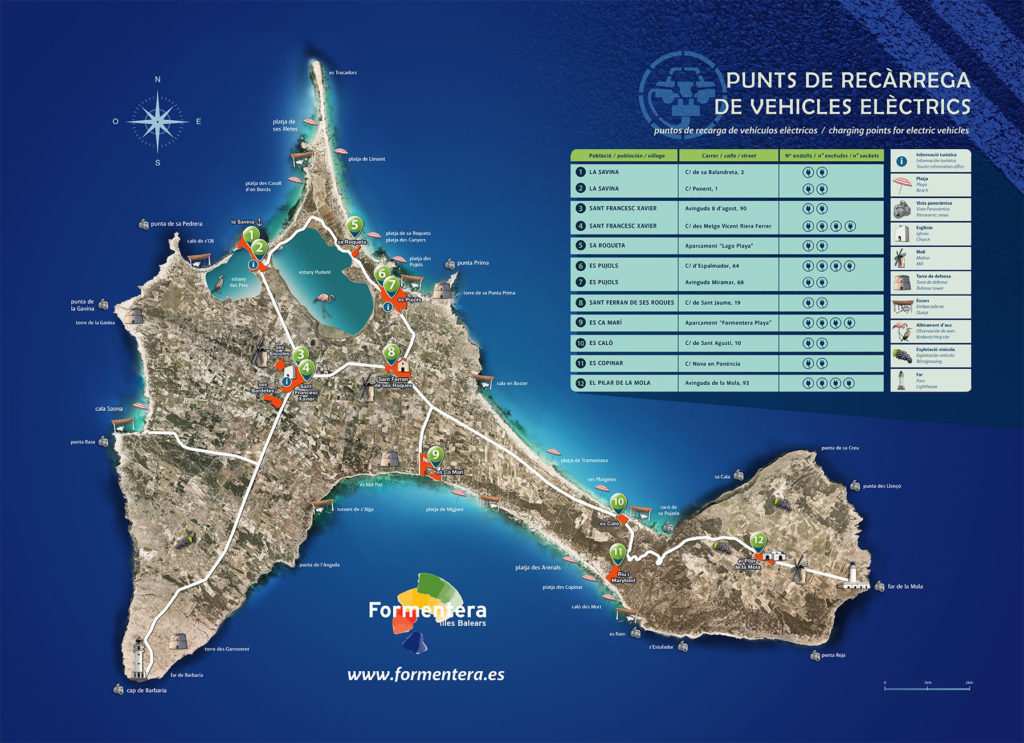 When charging the vehicle, you can find fast, semi-fast and slow charging stations. The fast charging stations in the previous the map are numbers 4, 6, 8, 10 and 12.
Also, you will find that some restaurants and accommodations have private charging points for their customers. You can check with your booking if they have their own charging point or if there is one near the apartment, hotel or restaurant.
Do you want to know the electric cars we have in Formotor?
Renault Zoe y Kia Soul.
If you have any questions you can contact us by phone: 0034 971 32 29 29 or email: rent@formotor.com
Enjoying your holidays in Formentera while taking care of the environment is possible! Book your electric vehicle in advance on our website.