A different route to discover the most genuine Formentera
In Autumn Formentera is enjoyed in a different way.
The long days of sun are shorter, and the temperature lower, as a prelude to winter. And the beaches are at their best, much quieter without so many tourists.
Also, as it is not as suffocatingly hot as in summer, it is the best time to go for walks, to get lost and discover inscrutable places.
To make it easy for the visitor, 32 green routes are defined throughout the island. You have more than 100 kilometres of interlaced paths, to go on foot or by bicycle, and discover the most authentic and wild Formentera.
In any case, it is not necessary to choose a specific route to follow. Even if there is not a marked path, why not go for a walk until there is no more path to keep walking?
I suggest a different route to discover the most genuine Formentera, by the nature reserve of La Mola.
The walk begins in the easternmost part of Es Migjorn beach, at the height of the Riu La Mola hotel. Leave the car or motorcycle parked there and make sure you have enough water for a good, long walk.
Head towards Caló d'es Mort, a small and beautiful cove with turquoise waters, decorated with the typical fishermen piers. Despite its small size, it is one of the most frequently visited during the summer for its beauty and uniqueness, but you'll find it much quieter during the autumn.
Following the route along the coast, you will find Es Ram, a beautiful rocky cove of white sand perfect for snorkelling. Being one of the lesser known beaches of the island, it is usually a paradise within the reach of a few.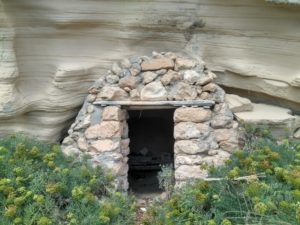 Passing Es Ram, the route continues for a few kilometres along the coast, where you will find some fishermen piers, some of them in the very curious form of a cave. But the route along the coast ends at a point where rocks and the cliff of La Mola appear, so it is not possible to advance.
You can get back to the car following a different route, by the mountain that is behind the coast, going back to Es Ram by one of the delimited Green Routes. The number 27. A beautiful road.
It is a 4-hour route, in which you will discover the unique beauty of Formentera through her waters, flora and fauna.