Sports events in Formentera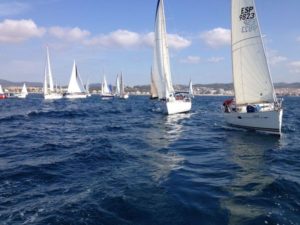 The island of Formentera offers its visitors much more than dream beaches and idyllic landscapes. Formentera is the perfect place to enjoy sport activities on land or at sea. If you like sports and want to enjoy them in un unrivalled environment these are some of the sporting events that you can not miss in 2017:
Formentera All Round Trail
On March 25th, the sixth edition of this race is held with a 75.5km route departing and arriving at La Savina where athletes run all along the coast of Formentera. As well as this race the Formentera Half Round Trail, 40km from Es Arenals to La Savina and the 'Tros de Fart',   21km from Caló de Sant Agustí to La Savina.
http://www.trailformentera.com
Formentera to Run
From May 28 to June 4, the 9th edition of Formentera to Run is held, a unique event in the Trail race calendar in which only 150 runners can participate. Open out of competition to Nordic Walking it covers  a total distance of 60km in 5 stages with a day of rest in which you can enjoy the whole island and the various landscapes of the Riu de la Mola in the area of the beach of Mitjorn, The Lighthouse of Cap de Barbaria, Cala Saona, La Savina and Illetes Beach and the Lighthouse of La Mola.
http://www.formenteratorun.com
Formentera Trail 21.1
On June 3, coinciding with a stage of the grand race, Formentera to Run, this half-marathon trail with departure and arrival at the Lighthouse of La Mola. A spectacular route through trails and dirt roads with narrow steps where it is very difficult to overtake limits the maximum number of runners to 350.
http://www.formenteratrail.com
Half Marathon Isla de Formentera
2,400 athletes will meet on May 13 to run the Half Marathon Isla de Formentera from the LightHouse of La Mola to La Savina and the 8km race from San Ferrán to La Savina. It is one of Formentera's most popular races with a number of pre-registrations increasing year after year.
Ophiusa regatta
If you prefer sea sports you can not miss this scoring regatta for the championship of Catalonia, for cruise ships and Minis 650, which this year celebrates its XIV edition between April 13 and 15. Sailing from Aiguadolç (Sitges) it arrives to la Savina after sailing about 160 nautical miles.
If you want to live an unforgettable experience that you'll want to repeat every year, there's no doubt, come and enjoy your favorite sport in Formentera. The uniqueness of the island makes most of the organizers offer packages with transporta from Ibiza and accommodation. And to get around on the island the best you can do is to rent a car or a motorbike.