What to do in Formentera: Sant Ferran de Ses Roques
The beaches of Formentera and their waters of indescribable colours are the undisputed protagonists of the smallest island of the Pitiusas.
But there is much more to this island of only 82.2 km2 and 69 km.of coast. You just have to open your eyes, get lost in the roads and venture into places where tourists are less seen.
Sant Ferran de Ses Roques is one of its hidden gems and, if you let yourself go, you will be pleasantly surprised.
In the middle of the island, it has much more to offer than you can tell when you cross it in the direction of La Mola or Es Pujols: a part of the most hippie Formentera essence endures today among its people and its streets.
To start the visit, Sant Ferran has a beautiful church whose Saint gives the village its name. Located in a square with palm trees it is a good starting point to connect with the simplicity and tranquility of the village.
Social life, as in the vast majority of towns and villages in the country, revolves around its bars.
La Fonda Pepe, is undoubtedly the most mythical spot of the place, having been the meeting point on the island of all the hippies that came here in the 60s. If la Fonda could talk, the entertaining stories it would tell us!
Nowadays, it is still a reference in the village, and in its restaurant you can enjoy delicious dishes, including paella.
The Macondo pizzeria is another well-known place, famous for its huge and delicious pizzas and other typical Italian dishes such as lasagna.
Highly recommended are Sa Panxa and La Trastienda with very well-prepared dishes and quality cuisine, with local and seasonal foods. A highly recommended visit!
In the summer months, craft stalls enliven the tranquillity of the town every day. It is a claim for tourists, who can find very special souvenirs of their trip to the island.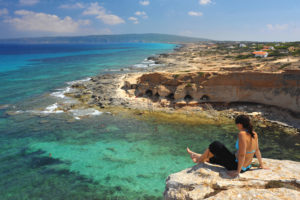 But it is when the sun falls when Sant Ferran becomes full of life, colour and music. On summer nights the spirit of those hippies who made the island their home, is present in the village.
Neighbours and tourists enjoy unique moments, laughs, dances and stories in the square and nearby places.
And to finish, a secret. Very close is the beautiful Cala des Baster. Unknown to tourists, it is usually very quiet and perfect for snorkelling.
---
Pic by Ibiza Spotlight / Destins.cat