Eight restaurants to discover the typical food in Formentera
The island of Formentera is not only a paradise of beaches, sunsets and fun. It is also an island where you can enjoy a gastronomy worthy of the best palates.
Before Formentera became the "Hippies dream" back in the 60s, it was an unknown small island inhabited by families with a long tradition of fishing and who based their recipes on fish, shellfish and products that they collected from their gardens.
The little white wooden 'llauts' came out each morning to fish and then returned to the coast with dishes that were cooked in rice, stews, baked, grilled etc. Although if there is something characteristic of Formentera it has to be salted fish, a tradition that is still in force since the Phoenicians or the sofrito pagès and the 'sobrasada'.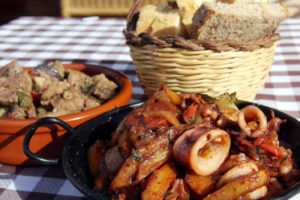 Although there is nothing like eating at "Sa Guela"'s (grandmother in Eivissenc) it is possible to enjoy authentic food in Formentera. Here you have a list of restaurants where you can enjoy these delicacies, as native or more than the famous sunsets.
Restaurant 'Can Dani'. Chef Cristian Periscal has created a very special menu that is a tribute to the local products of Formentera.
Restaurant "Es Cap" ( ) is an informal restaurant with the authentic local cuisine, fresh fish, rice dishes, mussels and delicious desserts.
Fonda Pepe, a restaurant located in Sant Ferran, retro and with a long hippie history, is economic and you'll enjoy paellas and fantastic oven baked fish.
Restaurant Ca Na Joana, a beautiful restaurant in Sant Francesc built in an old XVII century house, where you can enjoy a romantic atmosphere and the best Mediterranean cuisine.
Vogamari, a restaurant with rice, fish, seafood and tables by the dunes to enjoy incredible views of the sea by day and a radiant moon in the evenings.
La Mariterranea in San Ferran, where you'll enjoy delicious paellas, and friendly and familiar attention.
Sa Platgeta, is a bar snack bar in the Mitjorn beach where you can taste, very close to the sea, delicious recipes, typical of the island like the salad with "peix sec".
Can Rafalet Restaurant, delicious paellas and exquisite treatment with good views of the turquoise beaches of Es Caló.
Bon profit!