Seven sport and gastronomic events in Formentera to enjoy the island to the fullest this fall.
Calmness takes hold of Formentera with the arrival of September. It's the end of the holiday for many and the beginning of a season full of purpose to cope with optimism and renewed energy. The island offers the best it has: its nature and local products. And it is our duty to be grateful and enjoy it to the fullest.
These are the sports and gastronomic events in Formentera that you can't miss to enjoy the island to the fullest this fall: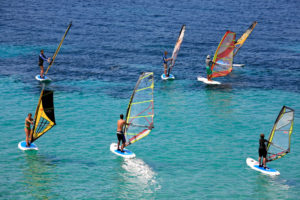 At the end of the month, there is the "Volta a Formentera de Windsurf", a windsurf regatta in which amateurs and professionals participate.
On the occasion of the World Tourism Day (September 27), there is a tasting of typical products and live music in the Plaza de Sant Francesc.
Another event that brings together hundreds of people is the "V Triathlon Illa de Formentera" which is celebrated on October 7. For the most creative, there is also a competition of sports photography to capture the best moments of the race and promote the hobby for sport through suggestive photos.
From September 29th to October 8th Gastronomic Weekends are celebrated where it is possible to enjoy typical food menus at 20 euros in the best restaurants on the island.
To slim down the excesses nothing better than signing up to the XXII Pujada La Mola, a trail celebrated on October 12 during the "Pilar de La Mola" festivities.
From October 12 to 15 the Festival Save Posidonia Formentera is held, the objective is to raise funds to conserve the Oceanic Posidonia. There will be sports activities such as yoga, surfing, kayaking, kitesurfing and musical performances, photography and solidarity markets, around a way of understanding life. Looks good, doesn't it?
On the 27th, 28th and 29th of October the cycling tour BTT and challenge of la Mola is celebrated. The hardness of some stretches and beautiful landscapes make this event one of the highlights for Balearic cyclists.
In September the temperature is perfect to enjoy the beaches and October is one of the months with the greatest number of events. Escape enjoying autumn in Formentera!
At Formotor we wait for you with our fleet ready for whatever you may need.
———-
Foto: Jose A Arriba