Motorcycle route in Formentera. Day 2
The best way to start the second day of our motorcycle route in Formentera is to spend the morning at Ses Illetes beach.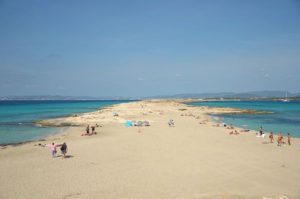 To get there we cross the Ses Salines Natural Park of Formentera, which houses the Oceanic Posidonia, responsible for the crystal clear waters of Formentera.
Illetes is one of the most beautiful beaches in the world, its turquoise waters of fine white sand and dazzling light, will transport you to some island of the Pacific, but without leaving the Mediterranean.
Walking to the end of the beach and away from the beach bars is the best way to enjoy the peace and quiet away from the rest of the world.
Set out for the Northeast to head for our second stop of the day. On the road to La Mola, we arrive at Es Caló, a beautiful little village to rest, sunbathe or enjoy a delicious rice dish in one of the fantastic restaurants in the area.
After lunch, we can refresh ourselves in the small cove and head for the Lighthouse of La Mola for a good walk.
From Es Caló we follow the road and make a mandatory stop at the most photographed viewpoint of the island. From this viewpoint you can see both coasts of the island, the Platja de Mitjorn and the Tramuntana, a beautiful landscape to be immortalized.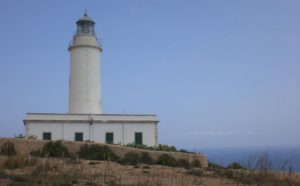 Continuing along the road we arrive at the village of El Pilar de la Mola where every Wednesday and Sunday afternoon, you can visit the most famous artisan market of the island. We cross the village and finally arrive at the beautiful Lighthouse of la Mola, that rises 120 metres on cliffs.
Bordering the cliffs, admiring the landscape and breathing that sea breeze, fills even the most urbanite of visitors of peace and energy. The lighthouse, also known as the lighthouse of Jules Verne, was the scene of one of the novels of the famous French writer. Definitely a must for anyone coming to Formentera.
To finish our motorcycle route in Formentera, we recommend a visit to the beautiful market of la Mola or say goodbye to the island enjoying a sunset to the rhythm of good music. And nothing better for that than going to one of the famous 'chiringuitos' of the Island like the 'Blue Bar', the 'Beso Beach' or 'Pirata'.
After this, the decision to return from paradise or not, is up to you.
Main Picture by #placesinlove