Motorcycle route in Formentera. Day 1
One of the best ways to get to know Formentera, enjoy the sun and get quickly to its corners, is to travel by motorcycle.
That's the reason behind our proposal – a motorcycle route in Formentera to enjoy the best places on the island during a relaxed weekend
2. 1. Let's go!
Leaving from the port of La Savina we leave behind the noisiness of boats and people landing on the island. We cross a long and straight road bordering the 'salines d'es Peix' to reach the capital of Formentera, a small inland village called 'Sant Francesc Xavier'.
If you got up early to catch the first ferry and you haven't had time for your morning coffee, we recommend a stop for breakfast in one of the bars in the 'Plaza de Sant Francesc Xavier'.
This small white square, presided over by a fortified church, is full of bars and craft stalls, and during the summer it becomes the scene of jazz concerts and "plein air" cinema. It is a very nice place for the first stop of our route.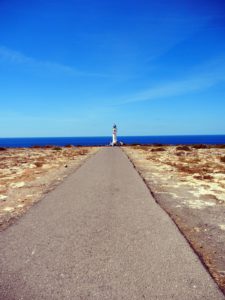 From San Francesc, we continue towards the southwest of the island.
We will drive along the straight road that will take us to the narrow asphalt road that divides the landscape into two, a bare and inhospitable place known as 'Pla del Rei' or 'Sa Tanca d'Allà Dins', until we reach the famous Lighthouse of the 'Cap de Barberia'.
A spectacular lighthouse that has been the protagonist of films and advertisements famous all over the world.
Leaving aside the motorcycle, we admire the slender lighthouse that rises 17 meters high and we enter the small cave, located to the right of the lighthouse, to gaze at the cliffs and enjoy the wonderful landscape.
Continuing our route, we will stop half-way between the Lighthouse of Barberia and Sant Francesc, to reach the first beach of our route, Cala Saona.
Cala Saona is a beautiful cove of turquoise water ideal for the first 'formenteran' swim. Cool down, lie under the sun and, if the afternoon carries on, enjoy the sunset while you sip on a delicious mojito is the best option.
To finish the day, you must have dinner at the famous Macondo pizzeria located in the lively village of Sant Ferrán, a pleasure for lovers of good pizzas.